Lawn Care and Landscape Maintenance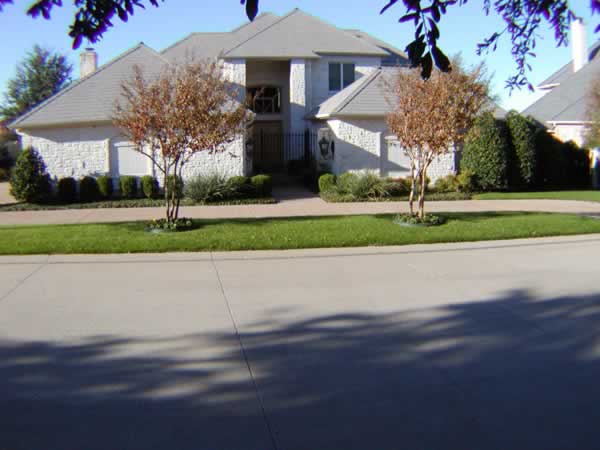 Grasseaters offers convenient and reliable lawn care landscape maintenance programs in the Fort Worth and surrounding areas.  North Texas weather alone is a huge factor in determining your lawn and landscaping needs.  Proper maintaining and care of your lawn should be as important to you as your other big investments; your home and your vehicles.  It is important to find an experienced and reliable landscaper in your area, one who knows your lawn and your climate.  We have been proudly maintaining and treating lawns like yours since 1984.
Lawn and Sprinkler Services
mowing
edging
weeding
shrub care
trash removal
clean up
fertilization and pre-emergent
landscape design and installation
sprinkler repair and installation
and more
Grasseaters offers monthly contracts or "pay as service provided" landscape maintenance programs that can be tailored to your lawn care and landscaping needs.  In either case, a monthly bill will be mailed showing in detail all work performed for the past month for your lawn care.  Our "How are we doing" cards with each billing is another way we can stay in touch with your ever-changing landscape needs.
We schedule the same crew to arrive at your property every week on the same day and close to the same time. Our crew leaders learn the smallest details about the property, so they can keep your landscape manicured to your specifications.
All Your Fort Worth Lawn Needs
Mowing: Prior to mowing your home in Fort Worth, the turf areas will be policed for trash, tree limbs or obstructions. Turf will be completely and evenly mowed at a height most suitable for the species and the site's specific needs. In areas we cannot reach with a lawnmower, we will string trim the turf to the height of adjacent turf. We do not bag grass clippings. Turf grass research shows that by using proper mowers, it is better to return clippings to the turf for nutritional replenishment. This process is called grass recycling and it's a tremendous help to our environment and makes sense in fort worth lawn care.
Edging: We will edge concrete borders such as walkways, curbs and driveways each mowing during the growing season with a mechanical steel blade edger. Bed lines that have been established by a vertical trench method will be edged each visit during the growing season. We will edge as needed during the winter months.
Weeding: Shrub beds, natural areas with mulch and ground cover areas will be weeded on every visit during the year. (If requested) We use Round-Up herbicide on any weed that we can safely apply without injury to ornamental plants. We hand pull weeds within the canopy of shrubs or ground covers. We use selective herbicides for persistent perennial weeds and grass control as needed. Your bed areas should remain 95% weed free. There will always be some weeds present in a fertile growing environment. Our intention is to always control weeds with no injury to shrubs, ground covers, or trees.
Shrub Care: It is important to remember that pruning plants is a process, not an event. There is no one-day of the year that all plants are to be pruned. Each species has very specific pruning needs based on flower production and the growing season. There will always be plants that require pruning in the landscape. First priority is pruning for bloom production, second is structure pruning for plant development and third is space management. Space management is most common in mature landscape environments. We must contain plants within the spaces allocated during landscape design. Our employees are trained on the most common landscape plants in North Texas. If you have an extensive planting with specialty items, we will inventory the plants and discuss proper pruning. Specialty pruning notes will be entered into your route sheet for our pruning technician's future reference.
Trash Removal: We remove all plant pruning materials from your site. We police trash on site (paper, cans, glass) we utilize mulching type lawn mowers to process leaves from trees on your site. Fall leaves are to be mulched or bagged and removed from your property.
Clean-Up: All concrete surfaces, patios, decks and parking areas will be blown clean of debris from the landscape maintenance process. This process will include the edges of streets in some applications.
Fertilization-Pre-emergent: Fertilizer is applied (4) times a year, March,May,July,and Sept The chemical make up of the fertilizer is decided on what type of turf you have and the season in which it is applied. Pre-emergent is applied once or twice a year, Sept and Jan. The number of times we apply this chemical is based on the type of turf you have. When to apply this chemical is based on weed seed germination and ground temperature. A reminder flyer will be left on your door after application is made. It will give you instructions on when to water and how much to water.
Lawn Care Billing: Around the 1st. day of each month you will receive a lawn care invoice that accurately states a brief description of work accomplished the prior month, the dates service was provided and the monthly charges agreed to in your contract. Charges for any additional agreed upon services will be listed separately on your invoice. You will receive a return envelope to send your payment. Payment is due by the 10th day of the following month. A service charge of 2% per month is added to any portion of payment that is not received by the 25th of the month.
Lawn Care Scheduling: We will prepare a schedule of tentative visit dates each month. By following the. A seven-day rotation indicates a visit once per week. We try to keep the day of the week consistent after start up. Flexibility is needed due to weather, holidays and Sundays. Our 14-day rotation customers receive visits every other week. We try to keep the day of the week consistent after startup.
MORE QUESTIONS?  Read up on our Fort Worth lawn care FAQ